Mergers and acquisitions (M&A) continue to be the most popular source of exit for digital health investors and companies.
Eighty-three digital health companies were acquired in the first half (1H) of 2020, compared to 91 in 1H 2019, continuing the downward trend in digital health M&A since its peak in 2016, when 110 companies were acquired, according to Mercom's 1H 2020 Digital Health Funding and M&A Report. If this trend continues, this year will be on track to have 10% fewer acquisitions than last year.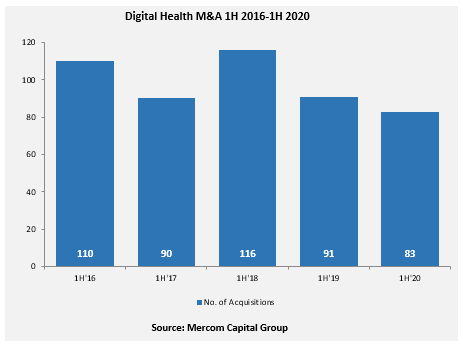 Of 83 M&A transactions during 1H, 59 were recorded in the U.S, followed by Canada and the U.K, with eight and four, respectively.
mHealth Apps companies were involved in the most M&A in 1H 2020 with ten deals, followed by Data Analytics and Practice Management Solutions companies with nine each, Telemedicine companies with eight, Wearable Sensors, and Wellness with five each, and Medical Billing companies with four.
Forty-two digital health companies acquired in Q2 2020, compared to (quarter-over-quarter) 41 companies in Q1 2020, and (year-over-year) 46 in Q2 2019.
Top M&As during 1H 2020:
Invitae, a genetic testing company, acquired ArcherDX, a genomics analysis company, for $1.4 billion.
Teladoc Health, a telemedicine company, agreed to acquire InTouch Health, a telehealth solution provider for hospitals and health systems, for $600 million.
lululemon athletica, an athletic apparel retailer, acquired MIRROR, the developer of a connected home fitness system, for $500 million.
Walmart acquired the intellectual property of the medication management app, CareZone, for $200 million.
R1 RCM, a technology-enabled revenue cycle management services to healthcare providers, agreed to acquire SCI Solutions (SCI), a digital patient scheduling and engagement platform, for approximately $190 million.
According to the Mercom database, almost 2,000 digital health companies have involved in M&A transactions since 2010. Learn more.